Follow our Dive 2000 Blog:
Dive 2000 Travel Adventure Evening
Date:
17-Aug-2016

What is it about?
We have an excellent menu of dive & adventure travel on the schedule for 2017 so we have organised a fun social evening with
FREE
Pizza and Drinks while we feature our fantastic line up of adventures with guest speakers and spectacular images of all our destinations.
TWO DIVE HOLIDAYS TO BE WON !! 
Simply by attending you will be in the draw to win a
Dive Holiday in Bali 
in 2017 with Dive 2000
.
In addition
Dive 2000 Dive Club Members
will also be in the draw to win a
Dive Holiday weekend at Nelson Bay
with Dive 2000 so make sure your membership is current or join
now!  
We look forward to sharing a fun night with you and your friends.
Agenda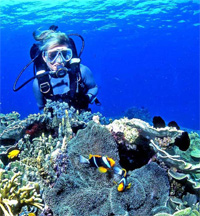 Our speakers will share their adventures to stunning dive & adventure locations with imagery and spectacular marine & wild life to match. Our presentations will include;
Encounters with Giant Mantas in Mexico, Great Hammerhead sharks in Bahamas & Manatees in Florida
Philippines, Ultimate Macro creatures & Thresher Sharks, emerald islands & Sapphire Seas
Bali - Discover the amazing reefs, wrecks, mantas, sunfish, bizarre marine life and culture in the 'Island of the Gods'
Face to face with Humpback Whales and calves in Tonga
An Africa Safari, the terrestrial equivalent of exploring a marine wilderness
Join us for a fun social evening - eat, drink, be entertained and discover.
Bookings are essential: 
Click Here to Book
Explore our
website travel pages
to decide what your next adventure will be?
Price:  FREE including entry, inclusion in prize draws, pizza and drinks
Date & Time
6:30pm Wednesday 17 August 2016
Venue
Crows Nest Community Centre. Johnson Hall. 2 Ernest Place. Crows Nest. (Located between Willoughby Road & Alexander Street). Parking available at adjoining car park.
Dive 2000 Dive Travel & Photo Centre  Dive 2000