[caption id="attachment_2280" align="alignnone" width="625"]
Dive 2000 Dive Club members line up for the treasure hunt starting signal.[/caption] [caption id="attachment_2281" align="alignnone" width="486"]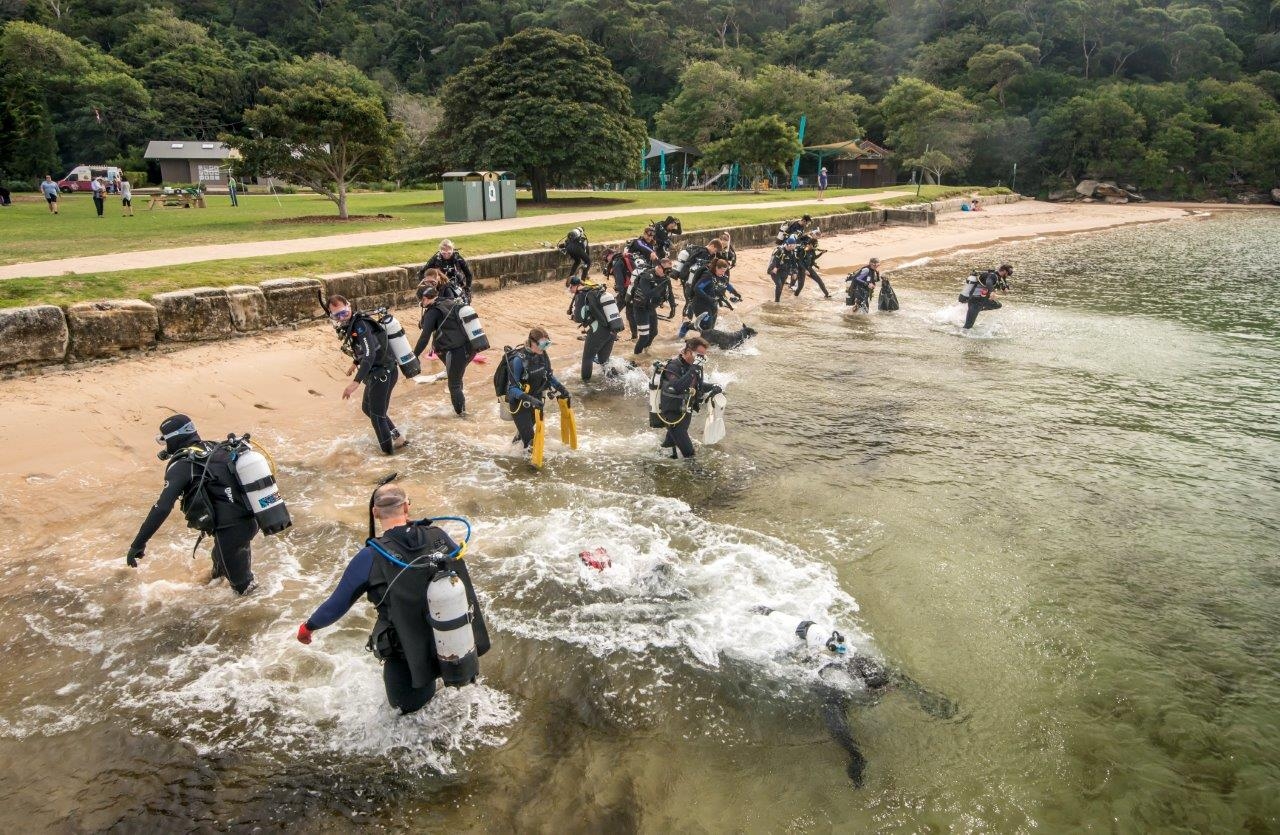 A racing start with club member Sean Behringer in the lead.[/caption] Warm sunshine, calm, clear sea and the promise of  'spuds' (potatoes that equate to treasure) lured our Dive 2000 Dive Club members to Clifton Gardens for our annual treasure hunt. Gathered at the starting line they were waiting in anticipation of the racing start signal, Dive! Dive!  Dive! Launching themselves off  the beach in a frenzy of flapping fins, foam and bubbles it was club member Sean Behringer that took the lead. From that moment on it was a competition to locate and secure a spud even if it meant wrestling it from one of the many octopus that decided potatoes look good in an 'octopus garden'! Video by Troy Deacon:    
Octopus Bandit In Action !
Incredibly, for the first time in 15 years  every spud was found! [gallery ids="2283,2282,2284"] As our successful divers exited the water they were greeted by the aroma of delicious Beef and Pork sausages and onions sizzling on a BBQ tended by our Sausage Chef, Jason Ruth. Meanwhile dozens of freshly cooked buns, bowls of salads, fresh fruits and home cooked cakes also beckoned. Appetites satisfied, our group gathered in the warm sunshine in the surroundings of the beautiful bushland park known as Clifton Gardens, Chowder Bay. Potatoes securely clasped in hand they could only guess what fabulous prize awaited each lucky spud hunter. [gallery ids="2285,2286,2287"] And fabulous prizes they were!  A weekend Dive Holiday at Nelson Bay, $500 voucher for Scubapro equipment, i-Dry wetsuit, GoBe Dive/video lights, a double boat dive on the wreck of the HMAS Adelaide, dive masks, knives, lanyards and more. In total almost $3000 worth of valuable items donated by our sponsors. Comments all round confirmed a fantastic, well organised, Treasure Hunt Dive Day and the BBQ was enjoyed by everyone.  For sure next year's annual treasure hunt will be eagerly looked forward to. [caption id="attachment_2288" align="alignnone" width="471"]
Winners are grinners, 15 Dive 2000 Dive Club members took home prizes.[/caption]
Special thanks to our sponsors:
Dive 2000, Scubapro, Lets Go Diving Nelson Bay, Pro Dive Central Coast, Probe Wetsuits, Tabata Diving Equipment, Apollo Dive Equipment, Sea Optics. Very special thanks to our dive day team. Kevin & Cherie Deacon,Treasure Hunt Event Organisers. Josie Ruth, Supervising Dive Master, Troy Deacon and Mo (Mahmoud) Spud Planters and Dive Masters, supported by Jenny "Puddles" Silman. BBQ Chef, Jason Ruth, our picnic food team of Cherie Deacon, Maria Bourchier, Amie Benge, Gaby Oly and other willing ladies and gents who generally pitched in. Thank you Gaby Oly for all the very yummy home cooked cakes.
By Kevin Deacon
.
Dive 2000 Dive Travel & Photo Centre
Click Here