PUDDLES POST:

I think SWR ❤️'s D2K divers.
We had 2 epic dives today with lots of shark action or as Howard so eloquently put it - "It was like flying with sharks". With the vis having improved on yesterday's conditions the D2K team were happy, happy, happy.
The water was alive with a strong fishy vibe and energy. Cue the shark action! Lots of cruising big beautiful female Grey Nurse Sharks cruising by and seemingly not bothered by our presence in the water with them. Free swimming Wobbegongs out gliding about, more underwater whale song serenades (just brilliant), curtains of fish everywhere, a massive school of Kingfish (a free flowing wall of them actually), more turtles and a close encounter with an incoming Mako shark made for an adrenaline pumping 2nd dive and made Craig's weekend I think.
Just incredible action at Fish Rock today making truly memorable diving yet again at SWR's. What will tomorrow's diving bring......
So, I didn't take a lot of photos this weekend but here are two. Note that one of these fish likes to bite, and it wasn't the Grey Nurse Shark !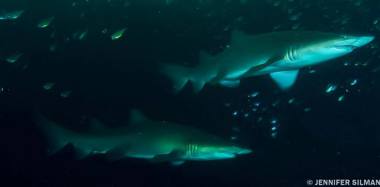 Home safe and sound after another great long weekend of diving (eating and napping) at South West Rocks. Three days of diving Fish Rock, six dives and so much fish action even with the variable vis that we had. We had current, we had surge, we had calm seas and swell, we had varying vis and we had a brilliant time!
Finning around, exploring numerous dive sites at Fish Rock - the Main Gully, Fish Rock Cave, Fish and Chips, the Shallow Entrance, Black Forest and the Aquarium we had a very sharky time and there were so many underwater highlights from the weekend......
Our Mako sighting ended up being a Bronze Whaler sighting (a large adult). The excitement of the sighting leading to Craig picking up a new nickname "30bar Mako". Obviously all those bubbles he was blowing obscured our view of this unexpected Bronze Whaler visitor. 😁
Eavesdropping on the underwater conversations and serenades of Humpback Whales as they journey south on our morning dives. Magic! And then getting some above water close up glimpses as they tail slap, fin slap and spout their way down the coast.
The graceful elegance of the Grey Nurse Sharks, such big beautiful females and just so relaxed around us in the water. I just never get tired of diving with these amazingly placid sharks.
The flight of the Wobbegongs. Wobbegongs on the move and cruising under divers, over divers and alongside divers. We even had one Wobbegong plonk itself down next to the D2K crew and join us as we peeked over into the current watching the Grey Nurse Sharks as they cruised on up to us. Priceless! One Wobbegong and 4 divers all in a row.
The schools of fish - the flowing walls of Kingfish, the massive schools of Yellowtail and the clouds of fish at the aquarium. The water around the rock was just alive with a very fishy vibe!
A big thanks to the adventurous and very entertaining D2K crew Troy, Liz G, Ali, Howard, Craig 30bar Mako and Liz B who joined me on our D2K SWR October long weekend.
By Jenny "Puddles" Silman Dive 2000 Dive Travel & Photo Centre Dive 2000
Video by Craig Lambert 'those moments in life when you have to dodge a shark's tail '