PUDDLES POST:
Road Trip! Nelson Bay I'm on my way. Yeah!

Fly is looking mighty fine today. Photo by Jenny Silman
Diving all done for the day. Fly was excellent with lots of giant Sea Hare action, fish, fish and more fish.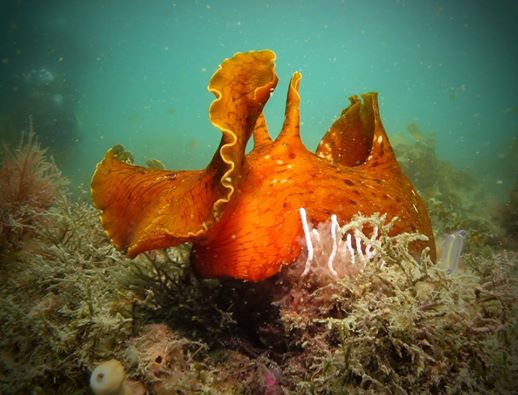 "Attack of the giant Sea Hare!!! Aaaaiiiiieeeeee! Its called a Sea Hare.... Like a giant slug but cooler looking!" Quote by Liz G & Troy. Photo by Troy Deacon
Seahorse Gardens was a Nudibranch spotters bonanza. Great weather with viz up to 7m at Fly. Great day team D2K (Ali, Liz G, Liz B, Troy, Mo, Craig, Mike and Penny) Looking forward to diving with the Grey Nurse Sharks tomorrow.
Home again after another great days diving at Nelson Bay. Today we dived with Grey Nurse Sharks, lots and lots of Grey Nurse Sharks. Water was cool, the sky overcast, but diving enthusiasm was high. 25+ Sharks, clouds of Pomfret, Schools of Yellow-tail Scad, Sea Pike and friendly Blue Groupers. We dived the same site twice because it was so good. Big thanks to the D2K crew (Mo, Ali, Craig, Troy, Liz, Penny and Mike) for a great weekend.
By Jenny "Puddles" Silman | Dive 2000 Dive Travel & Photo Centre  Dive 2000