PUDDLES POST: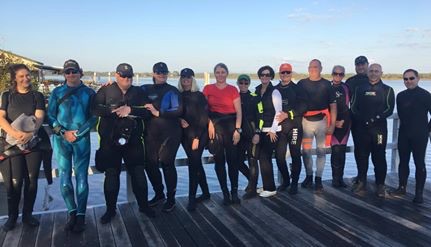 Easter long Weekend @ SWR with D2K. How good is this weather!
Afternoon dive today, so it's a coffee stroll along the beach this morning.
Sunshine, swell and warm water. The earlier morning dive team are back from 2 "swell" dives at Fish Rock. Really nice vis and the swell is starting to drop off. Yeh! Dived in huge clouds of Yellowtail with the Grey Nurse Sharks cruising through, just magic. Man oh Man SWR is grand. Beautiful Ray was also spotted on the move, turtles, turtles and more turtles, more clouds of fish, fish and more fish. Safety stop time and the Bat Fish provided the entertainment for the D2K crew, oh and another turtle passed through. Afternoon dive team have now headed out for some underwater fun!
Back in the pub after another 2 excellent dives this Morning. Grey Nurse Sharks were very happy to see us again and cruised in nice and close. The Aquarium was so alive with fish again. Just magic and happy faces all round.
So four days of diving are now done. South West Rocks, what a wonderful place to dive. Fish Rock just never disappoints. We've dived in some swell but it's been some fun as well! Sweeping in and sweeping out, just riding that surge, in amongst the massive schools of Yellowtail Scad with the occasional Kingfish (and ourselves) cruising on through. We've dived in some current, where our hard work paid off, pushing ourselves and our cameras through it and we were rewarded with some amazing visibility, beautiful blue clear water and a dive site teaming with fish life.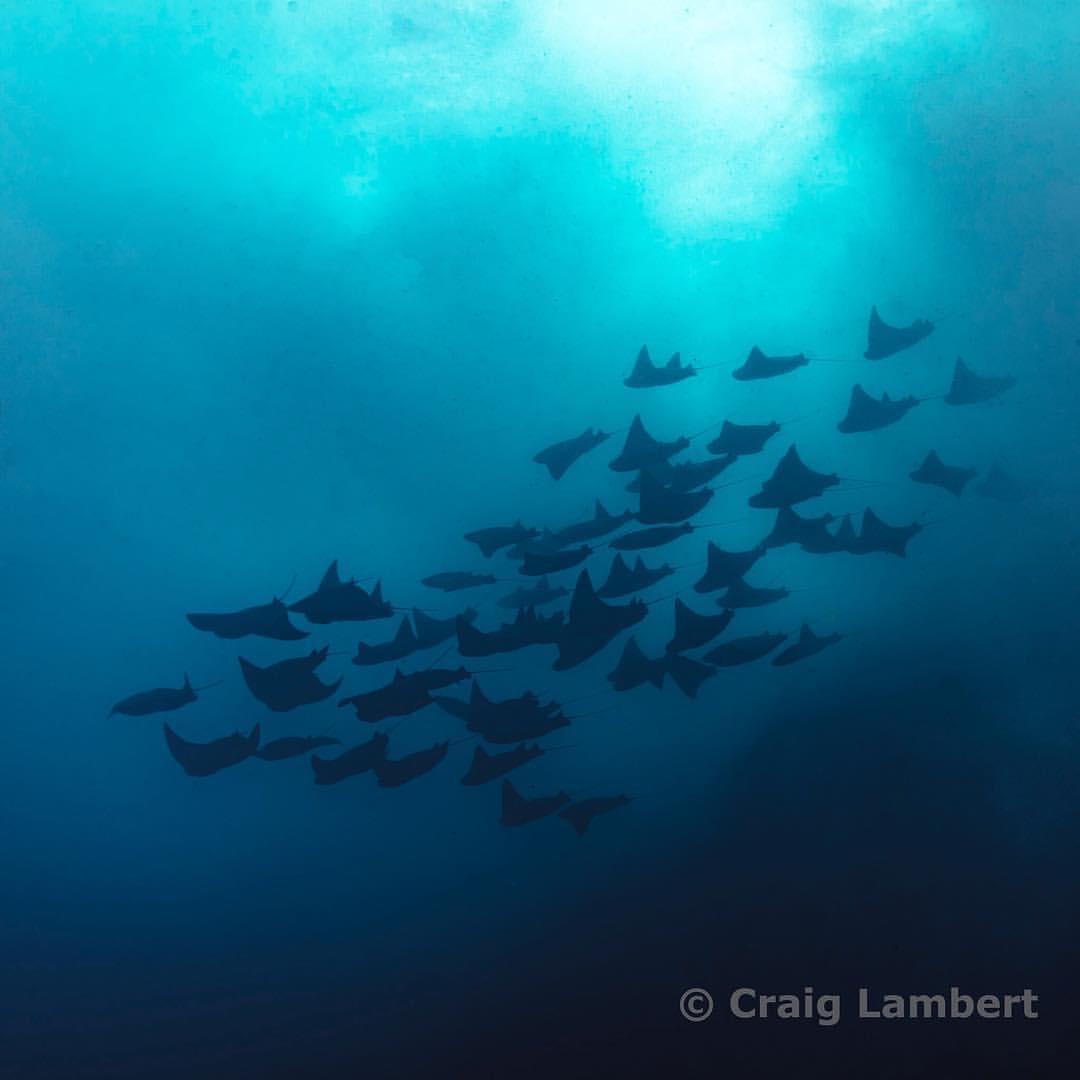 A school of Bat Rays fly through the water above. Photo by Craig Lambert
The lucky D2K few got an amazing show as a school of Bat Rays hung in the water at shallow end of the cave for a moment before they took flight. We've gazed up in awe as a endless school of Mackerel powered though the water up on high. We pushed our way through clouds of Bullseyes and Pomfret in search of Grey Nurse Sharks and not been disappointed. We've just had so many close up interactions with these majestic Sharks as they gracefully swim to and fro in the gutters.
We've finned through underwater gullies and ridge lines where massive Wobbegongs, as well as some smaller youngsters, snoozed and then on occasion lift off gracefully, when the time is right, for a bit of a swim. We've had up close encounters with Turtles, both Green and Hawksbill, smiled at comical encounters with White eyed Moral Eels as they swum freely in amongst our dive team. So many encounters with Lionfish, Spanish Dancers, Bream, Gropers, Schooling Bannerfish, Butterflyfish, Anemone fish, Morwong, Boxfish, Cowfish, Trumpet Fish, Eagle Rays, Marble Rays, Bull Rays, territorial Damsel fish and the list just goes on and on .........
Fish Rock put on such an amazing show for our final day of diving. More Grey Nurse Sharks, an encore performance by another school of Bat Rays, Turtles up close, Wobbegongs on the move, Bull Rays with skirts a flutter just hanging in the current, clouds of Silver Batfish twinkled up on high like diamonds in the sky, schools of Southern Fusiliers swept past like a flowing river of bright blue and brilliant yellow. Just mesmerising!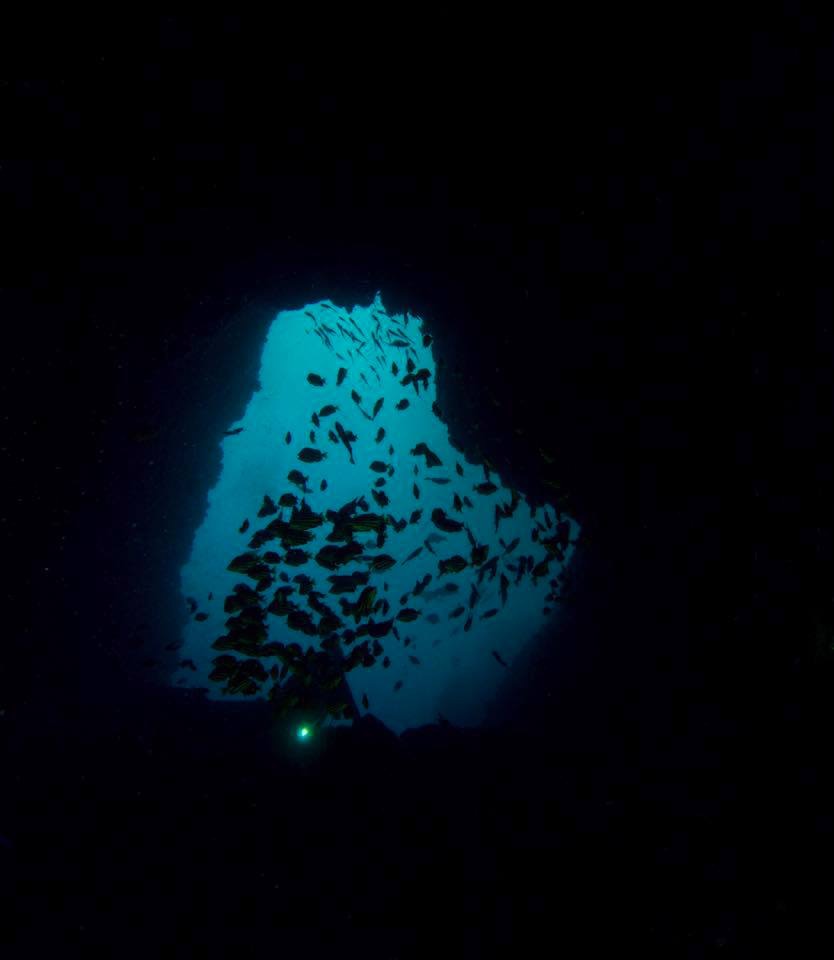 A diver enters the cave from the shallows. Photo by Jenny Silman
The water was just teaming with fish of every description, fish who were making the most of the current rushing on by, teaming with so many fish at times it was difficult to see your buddy through the walls of fish. What can I say other than that our final dive was an absolute cracker! Thanks to the D2K dive crew that made the trek north up the coast (Ali, Liz, Troy, Craig, Phillip, Susan, John, David, Penny, Mike, Helen, Lawrence and Lena) and a big thanks to Peter & Kevin from South West Rocks Dive Centre. What a team!
By Jenny "Puddles" Silman | Dive 2000 Dive Travel & Photo Centre Dive 2000