10-Jun-2015
Back to Image Gallery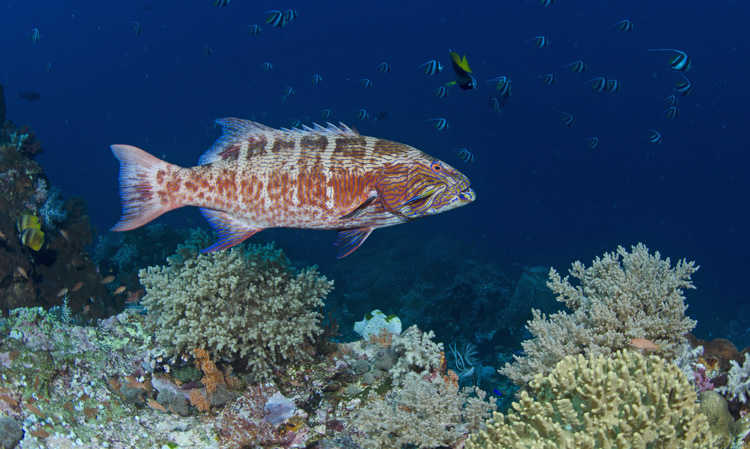 Exploring deep along the wall of a reef in the marine park at Komodo I came across this large spectacular fish hovering motionless in the water column with all its fins in full display. The reason for this behaviour soon became apparent when I spotted a cleaner wrasse hard at work searching for parasites on the fish's cheek.

I had never seen this species before and its combination of blue spots and stripes contrasted beautifully with its ochre coloured body. A large school of bannerfish patrolled in the deep blue beyond providing a dynamic backdrop to an image I was compelled to capture.

I would not know the name of this fish until I got home and scoured through my fish ID books. Without this picture as evidence, I would never have been certain of its identity.

It is important to learn to recognise the common species of marine life on the reef, this takes time of course but only then will rare and unique subjects become apparent.
Photo Data: Location: Komodo Island, Indonesia Genre: Wide Angle with Strobes. Photo Data: Nikon D7000, Nikkor 10.5mm Lens with 1.4 Teleconvertor, Seacam Housing, Dual Seacam Strobes, and Manual Exposure Mode. ISO 100 Exposure f5.6 @ 1/125th sec. Image by Kevin Deacon.

Photo Hints: To achieve good underwater images the photographer must get as close as possible to the subject, preferable within a meter unless the subject is very large. The secret to getting close is to move in slowly with camera raised at the ready so there is no sudden or unnecessary movement to startle the animal.

Reducing or taking a long pause with your breathing also helps but do not do this if you are ascending.

I would have liked to increase the exposure in the dark blue background. The quickest means of achieving this would have been to reduce the shutter speed from 1/125th to 1/60th thus achieving an extra level of sunlight exposure. However the fish did not tolerate more than a couple of shots before moving on.
Interesting Facts: When I researched my fish ID books I came across this comment from my friend Bob Halstead. Bob has spent more time on Tropical reefs than most people so his observation below is very relevant.

`This is an uncommon fish which is difficult to approach'

Common name. Highfin Coral Trout. Latin name. Plectropomus oligocanthus